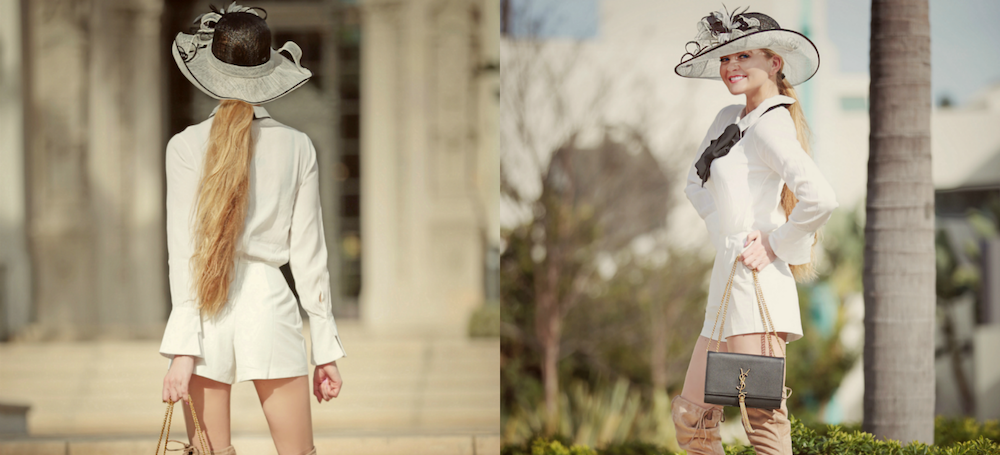 I am always asked about my wardrobe. They say "How can I dress fabulously like Manhattan Girl, if I don't have the fortune?". I'm here to let you know that there are ways to dress both chic and trendy without going broke.
I recently came across a great shopping concept called Trend Pay. They make quality fashion accessible to everyone so that women can wear the latest trends without breaking the bank. Their "Trend Now, Pay Later" payment option makes bringing home the trends you want, when you want them, without worrying about paying all at once.
I have put together a post for you to show you two Trend Pay looks.
The first look comes from last week when I had High Tea with some British high society friends who were visiting. Rompers and jumpsuits are perfect for many occasions, and there are SO many ways to accessorize them! I wanted to add a dash of glam, so I paired my romper with a pair of thigh-high boots.
For my second look, "Manhattan Girl Meets the Wild Wild West", I went along to watch my friend Louise, who's a great equestrian, ride her favorite horse Bella.
In true Manhattan Girl fashion I wanted to dress the part, and chose a perfect brown fringe dress paired with cowgirl boots. I picked up my vintage six shooter holster belt and cowgirl hat on my very first trip to Texas a few years back, and they were the perfect accessories for this western inspired outfit.
xoxo Charlotte