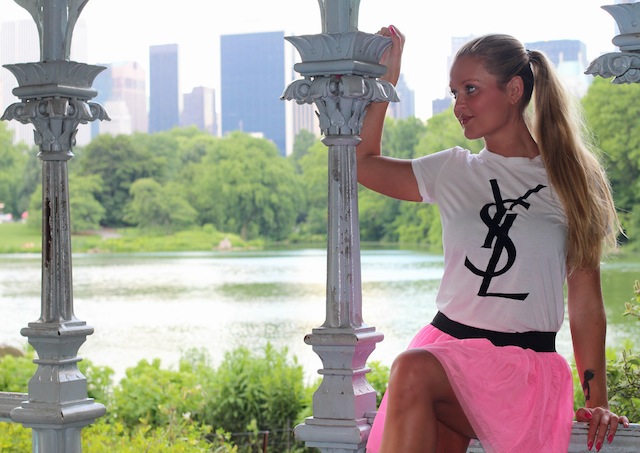 Yesterday, I went to see my spectacular hairdresser, Adam, at Wonderland Beauty Parlor in the Meatpacking District, before I met a friend for lunch. On my way to Midtown, I met one of Manhattan's worst enemies, the cheap cabbie! You know the one who refuses to turn on the air conditioner, even though it's a million degrees outside. This cabbie came straight from hell and the only air conditioner I got, was the wind killing my phenomenal new curls.
With a much less fabulous new hairdo, I arrived at One Rockefeller Plaza where I was meeting my fab gay Brian, a photographer and stylist for MAC cosmetics. We headed to Bouchon bakery, known for their delicious macarons, to pick up a few pistachio macarons for our picnic in Central Park. We found a cute little spot by the water on the west side near 77th, and started chatting it up. Brian told me about his amazing date at Perla last week, an Italian restaurant in the West Village (owned by well-known restaurateur Gabe Stulman). I mentioned that I'd be hitting the Tory Burch sample sale, in the Garment District, this weekend (June 14-15 at 261 W 36th St).
You know a Manhattan-Girl has gotto have her gays, they help keep you abreast of the latest trends and they really do make the best girlfriends. I really am lucky, as a dancer I'm always meeting new gay males, and I've been fortunate enough to make quite a few fabulous gay friends, which has always made my girlfriends envious. I really should open a business and start renting them out!
Have a wonderful day, everyone!
xoxo Charlotte