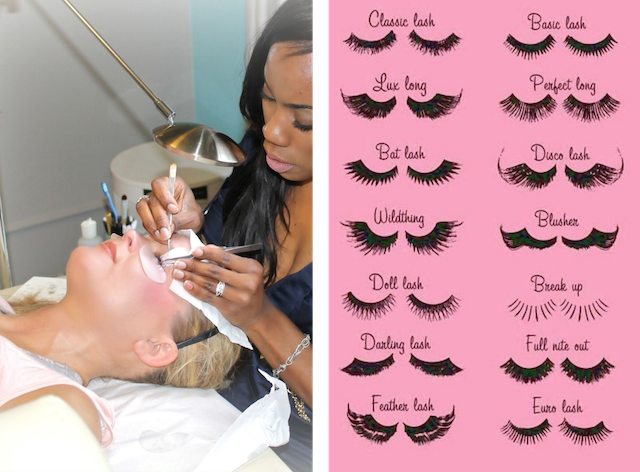 I've been using eyelash extensions for more than 10 years now. Back when I lived in Europe I went to an amazing eyelash extension specialist who not only gave me the perfect doll eyes, but she also tough me everything there is to know about eyelash extension. It's extremely important to use a professional eye lash specialist who doesn't damage your own lashes. Maximum visible long and Twiggy-like doll lashes are hotter than ever, and lash extension is definitely here to stay. Unfortunately, so is also the thousands of so-called "lash extension salons and specialist" popping up around the world. They're all jumping on the trend, many with CERO knowledge or lash-education.
I haven't been able to find even ONE decent lash extension specialist in California after trying out around 30 different ones. Yep, you heard me right. I'm from Europe, and I know a bad set of lashes when I see one. Here in California, the lashes has either been applied wrong, damaged the skin around my eyes, damaged my lashes, or just ended up looking horrible! I'm so done, California! If you're a decent lash specialist in CA, please reach out to me, because I have officially given up.
In New York however, I found the most amazing women, lash specialist, the ultimate lash-guru. Her name is Clementine, and she runs her own salon @ 5th Ave in Midtown. Her clientele ranges from Grammy award singer Mary J. Blige, to Hollywood actress Kate Chapshaw, wife of Steven Spielberg. Although name dropping is irrelevant, I will tell you that Clammy is incredible at creating lashes for any woman. Take MY word for it!
I clearly only do my lashes in Europe and NYC these days, and I refill my lashes once every third week, and haven't used mascara in many, many years. It's my biggest addiction! Clammy gives me a perfect set of lashes, no criss-cross, no messy out of control lashes… just perfection from one eye corner to another.
xoxo, Charlotte