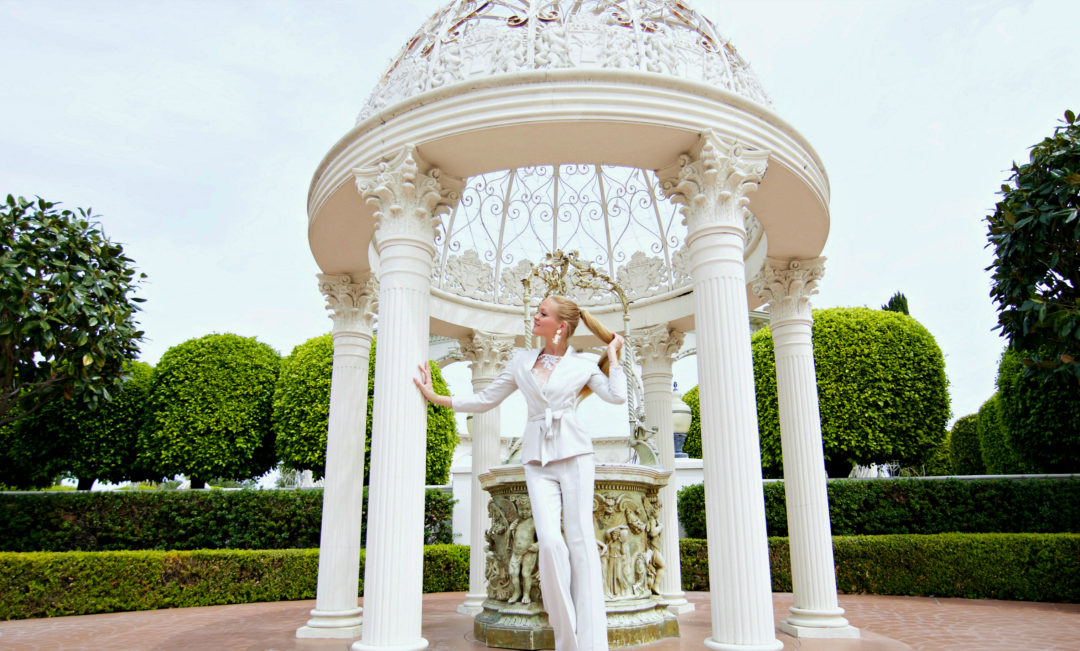 Ready to start putting your wedding together? Today I'll be breaking down the ever-intimidating wedding planning process into a simple and straightforward timeline. Whether you're a bride-to-be, a bridesmaid, or an attendee this timetable will let you know what to expect and how to be prepared. I hope you find this helpful! Ideating the vision for your wedding is easy. Most of us have been envisioning our dream day since we were little. And if you're like 99% of the women on Pinterest, your wedding is practically planned on a not-so-secret "I Do" board. While establishing the aesthetic for your wedding is definitely the fun part, planning it can be a bit overwhelming. There are so many things to coordinate that it can take away from enjoying your engagement.
I'm wearing pants and jacket from H&M and jewelry from Chanel and YSL. xoxo Charlotte

12+ Months: Draft a Guest List – If deciding who's coming (and who isn't) threatens to either bankrupt you or start a war with your families, many wedding planners recommend scaling back and homing in on the people who really matter. Look at extending invitations not as a social obligation, but as being surrounded by those you love and who love you.
12+ Months: Find and Secure your Venues – Draw up your guest list before booking your venue. There's nothing worse than falling in love with a locale and wanting way more guests than it can accommodate. Every wedding venue has its pluses and minuses, so find a spot that's convenient, exciting, and cost-effective. Once you love a venue, set a wedding date. Avoid holiday weekends. Travel is more expensive for guests, and you'll pay staffers overtime for working a holiday.
12+ Months: Book a Planner (if using) – A wedding planner can help find and negotiate with the other vendors you'll want to start hiring now as well.
12 Months: Set a Budget – Before you begin any sort of planning, it's crucial to determine how much you're willing to spend. While tradition deems the bride's parents responsible for wedding costs, modern day celebrations rarely stick to that rule. Instead, sit both your parents and your groom's parents down and politely decide if they'll be contributing, and if so, how much and for what.
12+ Months: Put Together your Wedding Party – Ask people who love and support you to be attendants. You don't need an even number of groomsmen and bridesmaids. Loved ones don't come in matched sets; your wedding party doesn't have to, either.
12 Months: Begin Registering – People will send gifts starting with the first party thrown for you, be it an engagement celebration or a shower. Set up your wish list (ideally, at two national stores and one local) to make their lives easier.
8+ Months: Order your Dress – It can take up to nine months for a gown you've ordered to be made; if you select one early, you'll avoid rush fees. Very short engagement? Don't panic. Purchase a sample from a bridal shop, or buy off the rack from a store or resale website. For Haute Couture, I recommend planning up to one year ahead!
6-9 Months: Order Stationary – The first hint guests will have of your wedding's style is your invitations. Make sure they represent it well. Sending something too cutesy is confusing if you're having an elegant formal wedding. If the stationery is discordant, you might accidentally prepare people to dress inappropriately.
6-9 Months: Book Florist – Do you want a florist who just deals in blooms, or an event designer who handles flowers, lighting, and décor? Naturally, you'll want a bouquet and centerpieces (which should either be shorter than 14 inches or raised more than 24 to allow for conversation). But will you use flowers in other ways, such as for a cake topper or favors, or to decorate a chuppah?
6-9 Months: Order Bridesmaid Dresses – Your day-of dress isn't the only thing to worry about. Now's the time to choose what your bridesmaids will be wearing, from color (Solids or prints?) to style (Will dresses be uniform or mismatched?) to length (Long, short, or something in between?). Make sure each 'maid has her dress ordered within this timeframe as well.
4-6 Months: Begin Dress Fittings – Now that the dress is ordered, you'll need a few extra appointments to ensure it fits like a glove. Start now, so you have plenty of time for alterations.
2-6 Months: Mail Invitations – All invites should be sent at least six weeks ahead, allowing your guests adequate time to respond and ensuring that you will get a reliable head count a week or two before the event. For destination or holiday-weekend weddings, the earlier they're sent, the better.
2-6 Months: Book the Hairstylist and Makeup Stylist – Schedule hair appointments for three hours before and makeup appointments at least an hour before; you won't be harried and attendees won't be kept waiting. Also test-run a few different options beforehand. No bride wants an ugly surprise the day of!
4 Weeks: Chart, Schedule, Sign and Plan – By now, your ceremony should be finalized, but small details still need to be taken care of. Arrange seating charts, confirm who'll be reading and toasting, write your vows, and print your programs. Also shoot your vendors a day-of schedule, so that they're on the same page as you are.