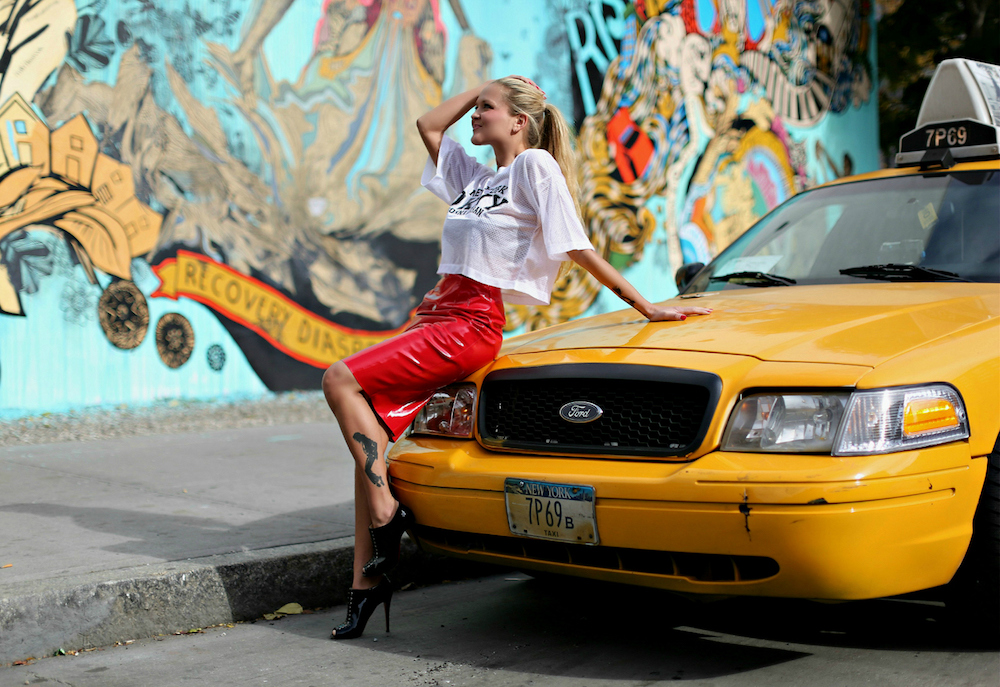 It's been exactly 21 months, eight days and two hours since landing at JFK (with eight suitcases full of clothes, shoes and accessories). The journey here was long and hard, and I should have been exhausted, but I had my O-1 talent visa in my hand, and dreams of making it in the Big Apple. I was pumped, ready to conquer the world, alright, maybe not the world, but definitely Manhattan!
The women of New York have always been an inspiration to me. With women like, Anna Wintour, the distinguished Editor-in-Chief of Vogue (for nearly 25 years), who wouldn't be influenced by her genius? First Deputy Mayor of New York City, Patricia Harris, helped raise $58 million for Superstorm Sandy Relief. Ruth Parot, who took on one of the toughest jobs in banking, when she became the CFO of the billion dollar company, Morgan Stanely, in 2010. And of course, the incredibly talented designers and fashion entrepreneurs who started in New York, Donna Karen (nicknamed The Queen Of Seventh Avenue), Tory Burch, Gwen Stefani (L.A.M.B), Nanette Lepore, and Diane Von Furstenberg, to name a few.
Everyday amidst the tourists, bankers, bums, and musicians, you spot them: the fabulous women of New York! They come in all ages, sizes and nationalities…. running around the city in 4" stilettos, carrying the most exquisite bags, and each with their own distinct style. Some live in tiny apartments, because they refuse to cross the bridges (unless, of course, they're heading to the airport or maybe to a fab gallery in Williamsburg). They squeeze their mani's in during their lunch hour, before grabbing lunch and heading back to eat at their desks, and they'll easily pay upwards of $500 for a pair of shoes (even if it means starving for the next few days). They're hard working, tough, beautiful, smart, and career-oriented. They don't need a man to buy them drinks (but they're not stopping them, either), dinner, the latest Chanel bag, or to put a roof over their head.
It's wonderful to live in a city where you can't be overdressed for anything, men are stylish, you never need to cook, and frankly it's a waste of time, and space – as my kitchen is like a second closet, used completely for storage (If you decided to turn on the oven, you'd burn some of my fav sweaters and you'd never be invited over again), and working hard and playing harder is just how it's done. You can have anything delivered right to your door, at any time. A delicious medium-rare fillet with bearnaise sauce from a five-star gourmet restaurant (although going to the restaurant is so much more fun), a bottle of Chateau Roques Mauriac from the liquor store, or the newest pair of Christian Louboutin's, delivered straight from their Manhattan warehouse. You can traverse through some of the greatest museums in the world, or catch a renowned ballet or see the new hit on Broadway, and it's all just steps away. It's a privilege to live in Manhattan, but it's not for everyone. There's a reason there's a saying " if you can make it in New York, you can make it anywhere." You have to want it, work really hard for it, it is a tough city, but if you make it, it's the most rewarding city in the world. I'm in Manhattan with only one motivation… to make all my dreams come true.
xoxo Charlotte
Photo: Jeff Thibodeau