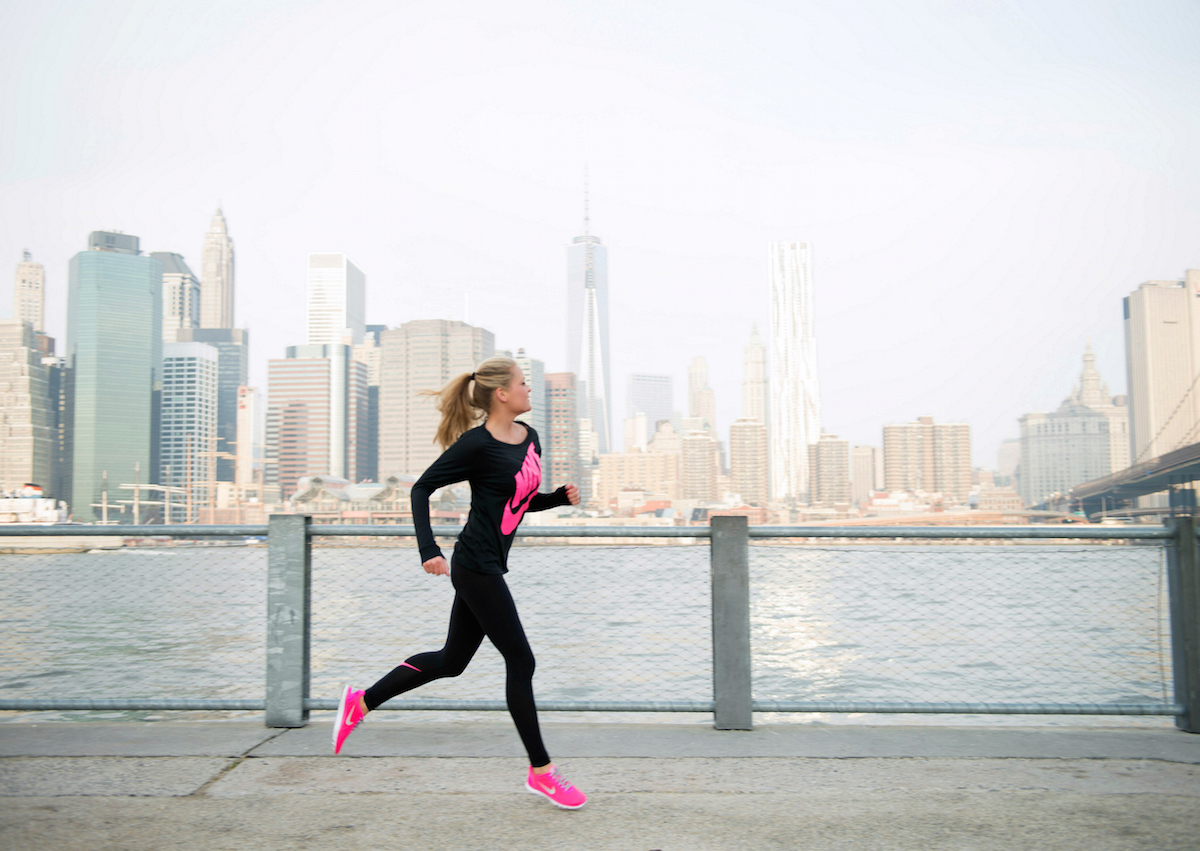 Get off the treadmill and out of the gym, New Yorkers! With spacious parks, stunning waterfronts and beautiful beaches, the city has plenty of scenic running routes to explore. Whether you're stretching those limbs after a particularly gruesome winter or want to take in beautiful fall foliage while getting fit, these four running routes are so pretty you won't be paying attention to those burning muscles.
Brooklyn and Manhattan bridges
Where: Start at the entrance to the Brooklyn Bridge from the Manhattan or Brooklyn side
What to see: This is truly a postcard-worthy route. You may want to bring your phone along with you to snap pictures of the Manhattan skyline as you run over both bridges. You can also see the stacked highways near Brooklyn Bridge Park and hear the clatter of running on wood planks.
When to go: To avoid midday tourists, head out early or at night.
Who it's good for: Newbies and intermediate runners. Be warned—on the bridges you may feel as if you're running up a hill at certain points.
Central Park:
Whether you are a casual Sunday jogger or a serious road warrior with many marathons behind you, Central Park is a runner's paradise, although it's also a great place for a walking tour. If you feel the urge to stretch your legs and get a run in during your trip to NYC, head up to the park! Central Park offers several distance options and different types of terrain. To get away from all the crazy tourist madness, head further uptown, and take a run around the Jacqueline Kennedy Onassis Reservoir. The Reservoir offers the most spectacular city views, just remember to stay to the right on this path and run counterclockwise so you don't piss of the locals!
For the Tourist: The Hudson River Run
You love the Central Park loop, but you're looking for some local flavor. Or a gorgeous sunset. Either way, head west. The Hudson River Greenway is a favorite among walkers, runners, cyclists, and everyone in between. Though afternoons along the Hudson tend to get crowded, this route's easy on-off access and proximity to some of the city's best sights makes it just about the perfect route.
Where: The path runs from the Bronx all the way down to Battery Park and is accessible from nearly anywhere. Length: 8.89 miles (regular) or 2.94 miles (short).There is limited shade and lots of foot traffic, so go early morning or early evening.
What you'll see: From bottom to top, highlights include the Statue of Liberty, Chelsea Piers, USS Intrepid, art installations, the George Washington Bridge.
For the Local: The East River Run
If you're ready to break out of your long-run routine, try this route that is definitely NFT. Bet you've never run like anywhere like this before.
Where: From the top of Central Park over the RFK Bridge to Randall's Island to Queens and back.
Length: 16.07 miles (regular) or 5.26 miles (short).
What you'll see: Killer waterfront views of Manhattan, Hell's Gate Bridge, Astoria, Queensboro Bridge. Did I mention beautiful views?