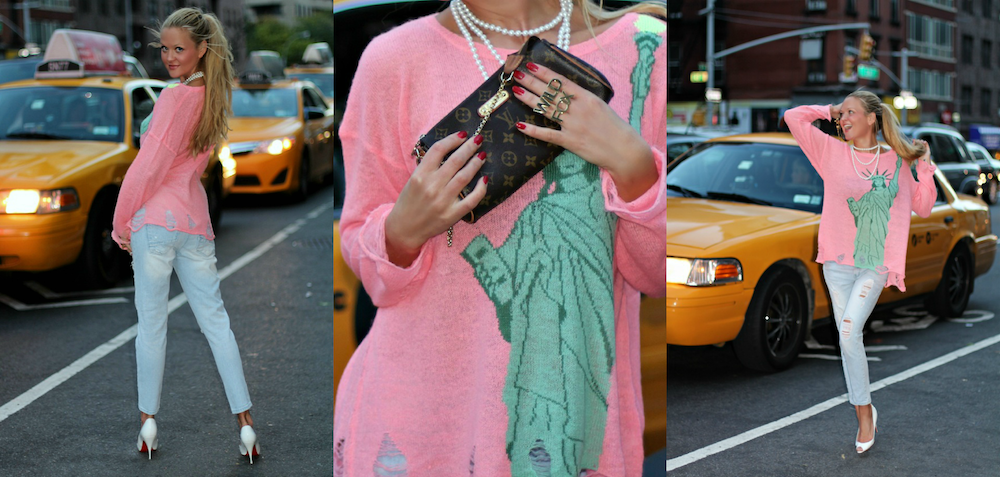 It's starting to feel like Fall in NYC. People are turning over their closets, putting away the sandals, and taking out their boots. You know what that means… it's finally time to start rocking the trends of the Fall runways! A major trend seen on the catwalks, that won't have us choosing between staying warm or looking good this winter, is something you already have in your closet (or packed under your bed), your favorite and mine, a cozy sweater! There is one simple rule to keep in mind this season, but the possibilities are endless…glam it up! Take a cue from Nina Ricci, as she combined a silk evening skirt with layered cashmere sweaters, or Alexander McQueen in a belted, black and white wool dress, paired with a fur collar.
Sweaters are the new fashion must! It's easy to make a statement this season, with styles ranging from striking work ensembles to dramatic evening outfits, and keeping cozy and stylish this winter, is a synch. From asymmetrical cuts and embellishments, to prints and color-blocking, to cable knits and cashmere, this season's sweaters have never been more glamorous. No matter what your style, luxurious or edgy and everything in between, you'll be comfy once the temperatures start to dip.
This season's open-weave sweaters are a staple, reminiscent of the 80's… when artists and musicians, living below 14th Street, couldn't afford anything, so they bought clothing from secondhand stores. Let's face it, I love the 80's, so this look is right up my alley. And there's something super sexy about these knits, that are sharp (in a "don't fuck with me" sort of way) but elegant in its embrace of sophisticated deterioration. Here's the stellar part, they are so versatile. You may have to shell out a little extra to own one, but styling it correctly gives you instant street cred. And wear that sucker till it's holy, oh wait, its already full of holes, so what's another one?
xoxo Charlotte