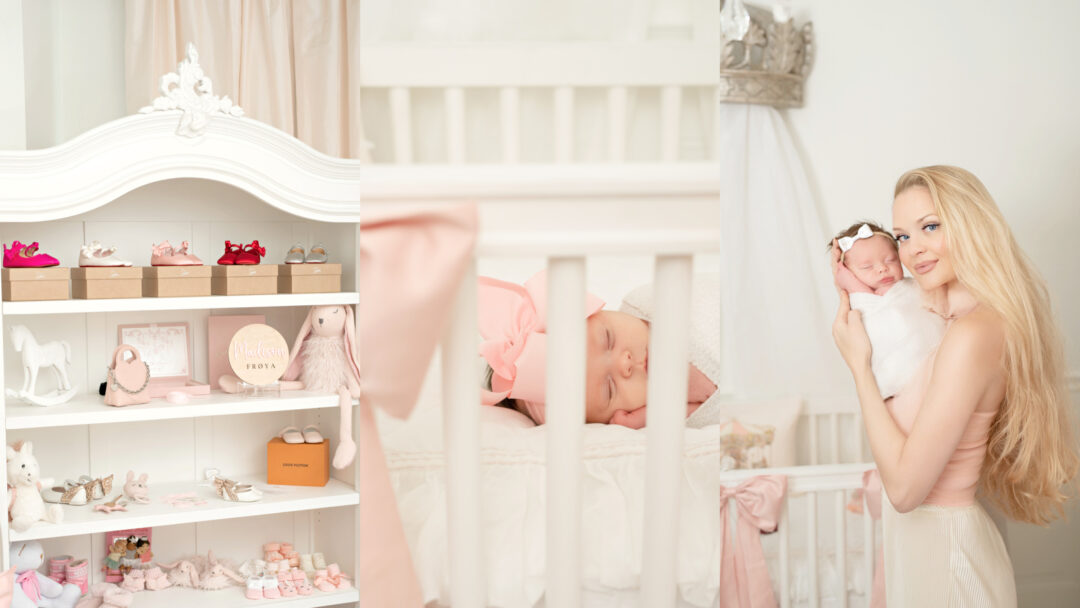 I'm so excited to finally share Baby Madison's RH BABY NURSERY with you all! All the furniture pieces in her nursery are by RH Baby & Child. The dresser, dresser topper and crib are all from The RH Belle Collection, and has all been some of my absolute favorite pieces long before I even knew I was pregnant! Madison's nursery is inspired by late 18th-century French antiques and The Parisian Style. Feminine pieces of furniture and chic French inspired decor, just perfect for our little European-American Baby Doll! As an European Mommy, I wanted to stick to my favorite clean, white, bright and timeless designs from back home for Madison's room, and then adding some beautiful light pinks and blush colors to make it adorably girly! Many of the furniture pieces in Madison's nursery will grow with her and also be appropriate for when she's a toddler and young teenager (which is important to me considering many of these items are on the pricier side and definitely investment pieces with long lives).
If I had to pick JUST ONE RH BABY item, it would have to be Madison's French Rococo armoire! It's probably one of the most (if not THE MOST) popular RH Baby piece, and an amazing piece for any home, not just for a baby nursery! I also wanted to pair all these amazing furniture items with The RH Marielle Baby Bookcase – Is this not THE DREAMIEST bookcase ever? I'm using this bookcase to showcase all of Madison's gifts, designer items and keepsakes, and it's such a useful item to keep the nursery neat and organized!
Some of the nursery furniture and decor pieces in Madison's nursery are limited editions, made-to-orrder or no longer available as new styles make their way into RH's inventory. Feel free to reach out to me if you have any questions about the items, colors and styles! The Silver Cross Doll's Pram is unfortunately no longer available in The US, only in England. It's by far my favorite little item in her nursery, and I can't wait for her to start using it when she's a little bit bigger!
xoxo, Charlotte