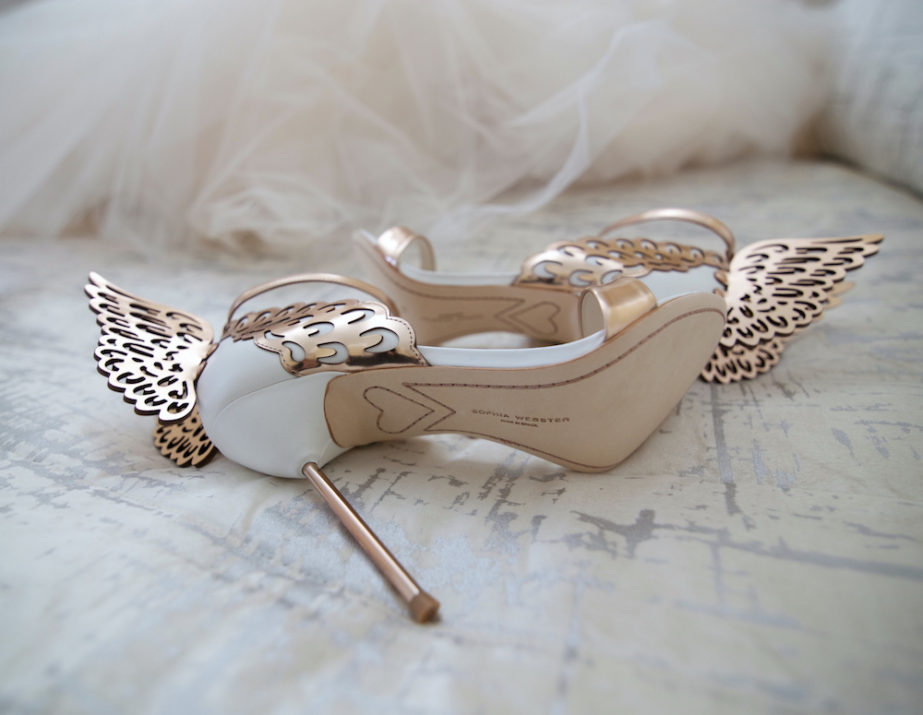 Choosing the perfect wedding shoe can be a challenge. Do you search for a store that specializes in wedding shoes, or do you look for a pair at your local department store?
I suggest you begin with your taste in footwear, and have that in mind and then you start looking. One element that you can't ignore and you have to pay immediate attention to is how the shoes feel and if you can wear them all day. A pair of heels that kills your feet changes everything about you – your posture, your face, you get angry. Nobody should be going through the most exciting day of their life wishing that they weren't wearing something that they are wearing.
Keep in mind that the wedding shoe will be a memento that you keep for a lifetime. You definitely want it to be a gorgeous pair that you will always look back on and remember how wonderful the day was. I personally love fashion shoes being worn by brides as opposed to traditional shoes. I don't think a girl should wear a bridal shoe, you want the shoe to look like who you are and your age!
I've added some of my absolute favorite shoes, all unique in their own way depending on what type of bride you are. From a fashion perspective, and to keep it super elegant, I would avoid big platform heels, they can look a little cheap and heavy on the foot. I would also suggest looking for shoes before you decide on your dream dress. It's far easier to customize your dress than your shoes, and your shoe choice will give your seamstress an idea of the exact height you will be on your wedding day, so that your gown can be customized to fit perfectly in length. 
I'm wearing "Evangeline" from Sophia Webster. This shoe comes with silver details, gold details, and even purple, pink or rose gold glitter. It's definitely an elegant, yet very playful, girly and romantic design, and currently on my top 3 bridal shoe-list. Evangeline is super comfy, and hello… she has wings!! I mean, how incredible wouldn't it be walking down the aisle with two sets of wings on your feet?  Under are some of my other favorites. xoxo, Charlotte
SHOP THE POST

SaveSave