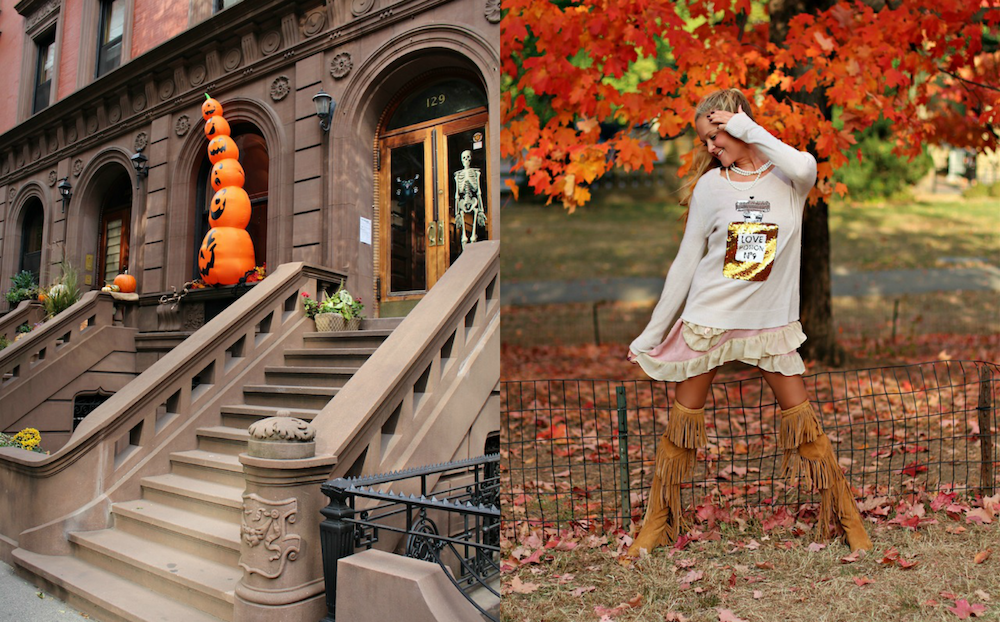 Yesterday was a perfect Autumn day in the city. Most likely, one of the very few days left to actually enjoy being outside, without freezing your ass off. And there's no better way to spend a gorgeous day like that, than gallivanting around Central Park with your besties. After our delish lunch at Per Se, followed by playing bocce ball in the park, we sat down to discuss a significant issue… what to do on Halloween this year? And more importantly, what mind-blowing costume to wear!
Last year I choose Lara Croft. In my opinion, Angelina Jolie is the hottest woman alive and I'm a huge fan of Tomb Raider (both the movies and video games). However, I figured it wasn't the smartest decision to run around the streets of New York with my soft gun, which happened to look exactly like a H&K USP compact 9mm. My costumed ended up being a dud, since I had to leave the most essential piece, the gun, at home. This year my friends have banned me from dressing up like Michael Jackson, since they think it's an obvious costume choice for me. So, I was thinking of dressing up as Frank Sinatra, dolled up in a fedora, and a Sinatra mask, and black suit, hide my iPod & mini speakers in my pockets, just so I can blast New York, New York over and over again to annoy all of my friends.
If you're in NYC for Halloween this year, there's one thing you simply can't skip… the Annual Village Halloween Parade. This parade has been a New York City tradition since 1973, and is the largest Halloween celebration in the world. Last year's parade was canceled due to the horrible Superstorm Sandy, so I have a feeling it's going to be off the hook this year. There are also a numerous parties, scavenger hunts and haunted houses, that are sure to scare. Blood Manor terrifies and will push you to your limit; at Nightmare Killers 2 you're surrounded by horrifying psychopaths tormenting you through a labyrinth. There's nothing more fun than scaring yourself to the point of having nightmares for days.
After we finished discussing our, ever important, costume choices, Adam decided to share creepy stories about people reporting seeing ghosts in NYC, for hundreds of years. On the Empire State Building, there have been various sightings of the reported apparitions of suicide victims jumping from the observatory. Soho's Manhattan Bistro is rumored to be haunted by Elma Sands, a young woman who was murdered in 1799. Evidence of her ghost's presence includes bottles flying off the shelves, ashtrays being jetted off tables, and plates being broken. And for years, tales have circulated regarding the ghosts at Hotel Des Artisted, on West 67th, brushing up against the clientele.
Adam's terrifying stories gave me the chills, I made not one, but two of my guy friends walk me all the way to my door. On our way home from our beautiful day at the park, I noticed that the streets are being transformed into what looks like an eerie horror movie; stoops covered in cob webs, oversized spiders, skeletons, gargoyles, carved pumpkins, witches, zombies and bats. New York City is becoming spook-tacular!
xoxo, Charlotte