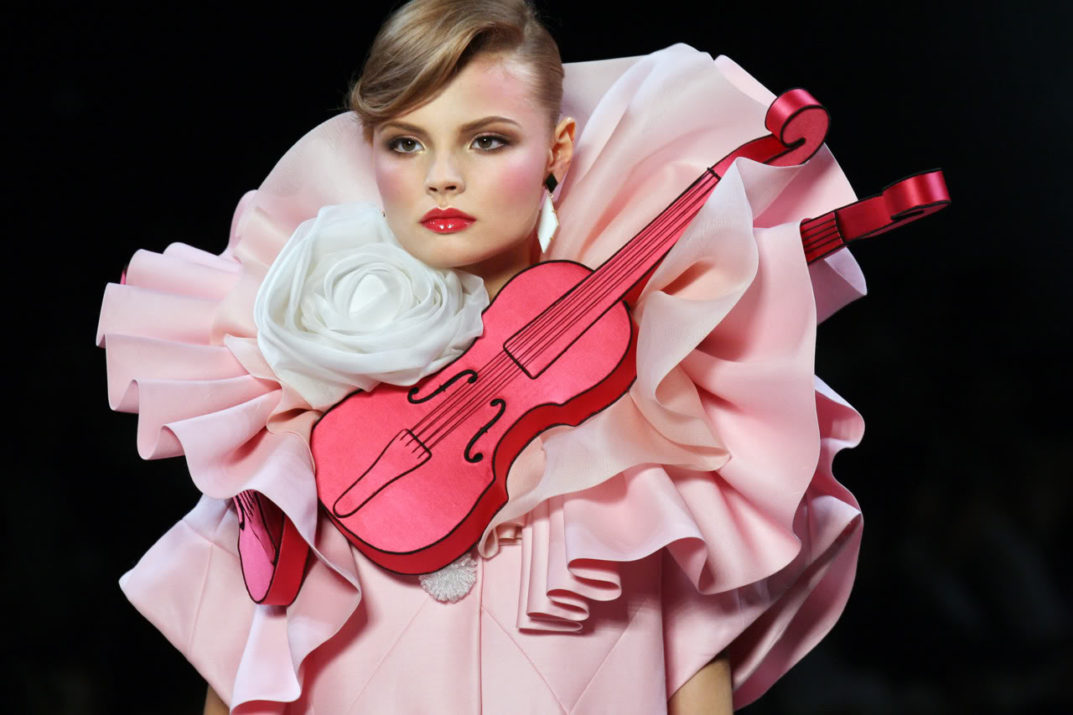 Art is a funny thing — the same painting might be heralded as a chef-d'oeuvre by one critic, and torn apart by another. Avant Garde, the French phrase meaning a group of people at the forefront of new developments, is a type of modern art that takes any traditional rules of what is and isn't art and throws them out the window. Avant Garde artists move through the art world like they live in the near-future instead of the frozen moment of the present with the rest of us.
Ahead of their time: From Coco Chanel's popularization of the suit to Christian Dior's full-skirted New Look, the ongoing evolution of fashion has existed largely on the innovations of the visionaries. For those creative and revolutionary enough to concoct an idea backed up only by their own convictions, some have managed not only to enter the mainstream of fashion but be embraced wholeheartedly by its capriciousness. While many designers stay within the familiar bounds of what's been deemed marketable and find their client base in clothing that is wearable and flattering, there are other designers whose nearly surrealistic convictions have put them a little outside of the mainstream. Though a thick line exists between ready-to-wear and the avant-garde, a few designers have opted to leave their clothing with the mark of something a bit more extraordinary.
Dutch designers Viktor & Rolf have made art and the artifice of the fashion world a source of inspiration, creating clothing and runway shows that were not necessarily appreciated or understood, while Vivienne Westwood, a designer who has been in the business for more than four decades, is largely responsible for the development of punk fashion, which is nearly inseparable from its music. Whether they've managed to bridge the gap between art and life in the present or changed the shape of fashion's future possibilities, the following have defined their aesthetic and stood out as the singular purveyors of their own distinct ideas.
"Avant Garde artists move through the art world like they live in the near-future instead of the frozen moment of the present with the rest of us"
I personally think that some Avant Garde designers are among the most interesting designers in the world. However, Avant Garde has unfortunately become a loose term. The expression "hipster aesthetic", meaning whatever Art manages to lure hipsters at the moment, must not be mistaken for Avant Garde. A hipster aesthetic is a member of the contemporary counterculture who suffers through mediocrity for the sake of cool. Dressing up in whatever tasteless outfit is NOT Avant Garde. I'd rather describe it as counterfeit Avant-Gardism. Avant Garde is experimental, radical or unorthodox, but with RESPECT to art, culture and society.
Comme des Garçons: French for the phrase "Like Boys", the international brand Comme des Garçons was started in 1969 by Rei Kawakubo in Tokyo, Japan. While the label became immediately successful in Japan for it's no-nonsense straight-edged viewpoint on women's design, it wasn't until the 1981 show in Paris that the brand broke through. With a simplistic scheme of black, white and gray, and a deconstructed look, Kawakubo garnered a new kind of fashion fan. Though her 1996 collection titled Dress Meets Body, Body Meets Dress was largely unpopular for its padded dresses that altogether altered the shape of the body, her unique take on the possibilities of femininity has inspired new ideas of gender identity in fashion.
Viktor & Rolf: Comprising one of the fashion's most avant-garde partnerships, Viktor Horsting and Rolf Snoeren of The Netherlands met at the Arnhem Academy of Art and Design before moving to Paris in 1993 to accost the fashion world. Early on, Viktor & Rolf were much talked about for their conceptualism, from bottling and marketing the Viktor & Rolf Le Parfum fragrance that didn't exist to throwing a fashion show in 1995 called The Manifestation of Emptiness that featured gold garments hanging from invisible thread, more installation than anything. While the design duo have moved into ready-to-wear in recent years to further develop their brand, their surrealistic designs and divergent take have made them a design name on the periphery worth knowing.
Alexander McQueen: There are few modern designers that are as simultaneously influential and avant-garde as Lee Alexander McQueen, born on March 17, 1969 in London, England. Dropping out of school at 16, McQueen started out early in the bespoke tailoring shops of Savile Row before being named Chief Designer for Givenchy in 1996, a position that won him numerous accolades before he went out on his own in 2001 to pursue his own ideas of fashion. As one of the iconoclasts of the design world, McQueen was well known and lauded for his invention of the low-rise "bumster" pants and the drama and extravagance of his runway shows. While McQueen committed suicide in February 2010, his fiercely individual aesthetic has made him one of fashion's giants.
John Galliano: It was John Galliano's mother, a Flamenco teacher in Gibraltar, Spain, who provided him with his initial interest in fashion for the outlandish outfits she dressed him in. Born on November 28, 1960, Galliano and his family moved to London when he was six, and in 1984, he graduated from Central Saint Martins College of Art and Design. While his early design career was brought to life by a series of financial backers, it was after a spate of upsets and a bankruptcy that Galliano captured the attention of Vogue's Anna Wintour. Making his fashion statements and bold declarations known, Galliano was made head designer of Givenchy in 1995 before moving to Christian Dior in 1997. With his fantastical designs, history inspired collections and dedication to the theatrical aspects of fashion, Galliano remains among the most outlandish
Vivienne Westwood: Among the most punk rock of designers, Vivienne Isabel Swire was born on April 8, 1941 in Tintwistle, Derbyshire. While Westwood moved to London at 17 and initially studied at Harrow School of Art, she soon coupled up with future Sex Pistol's manager Malcolm McLaren, making clothes and designs for his SEX boutique on King's Road. As the fashion centre of London's punk scene, Westwood is largely responsible for the punk look that includes safety pins, razor blades and the familiar tartan fabric. While she has worked her way into the mainstream of fashion, her feisty designs and hard-edged attitude have made her one of fashion's most famed rabble-rousers.
Here are all my personal favorite Avant-Garde moments. xoxo, Charlotte